"A Qualmark award signifies your experience is one of the most high-quality experiences New Zealand has to offer."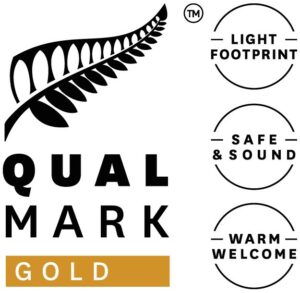 Qualmark is New Zealand tourism's official quality assurance organization, providing a trusted guide to quality travel experiences in New Zealand. It helps businesses become more sustainable from a people, planet and profit perspective.
In New Zealand, Qualmark is an auditing company that checks if businesses are to a high standard when it comes to the overall business plan, operations, customer experience, sustainability, environment and culture, team culture, community engagement and health and safety.
It is a certification that helps travelers quantify the information they are presented about our tourism experiences. It acts as the final seal of approval that signifies the experience they are paying for is one of the most high quality, safe and sustainable experiences New Zealand has to offer.
Only those businesses that are delivering a quality sustainable experience, who have undergone an independent safety check, and showcase true New Zealand hospitality, are recognized through a Qualmark award.
After an audit back in October 2022, we are proud to be presented with a GOLD Sustainable Tourism Business Award again this year.
"Once again it was a real privilege to be hosted by you and to experience the sense of pride and achievement in Glen Dene. You manage a complex set of business operations and set high standards.
It is encouraging to see your bookings shaping up. The business can get back up to strength on the basis of your well-established international reputation." – Ian, Tourism Business Advisor.
To help travelers understand the breadth and depth of what Qualmark stands for, they have highlighted the three key pillars of their story.

"A Gold Sustainable Tourism Business Award recognizes the best sustainable tourism businesses in New Zealand, with the delivery of exceptional customer experiences an integral part of everything they do.  A Gold Sustainable Tourism Award identifies those businesses leading the way in making the New Zealand tourism industry a world class sustainable visitor destination" (qualmark.co.nz).
We are proud of this achievement and will continue to deliver exceptional experiences while building on this good work and striving for excellence.