We have a mixture of guests at Glen Dene Hunting & Fishing, from couples on their first hunt together, to groups and father and son getaways. It's always nice to see fathers and sons bonding over the hunting experience and we loved hosting and Alex and Rod from Tasmania recently. While we miss our European and North American guests, covid-19 has enabled us to meet more Aussie and Kiwi hunters and share our land with them too. Thanks for the kind words!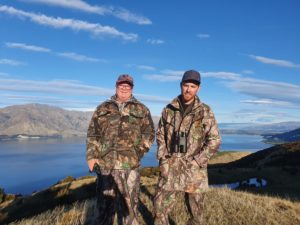 Hi team Glen Dene,
I  just wanted to say a huge thank you for our recent trip. Being our first time in NZ we was amazed by how spectacular Glen Dene is.
The accommodation was excellent and comfy and thanks to Richard and Sarah inviting us for dinner a few times at your lodge with great food and people that we met. Thanks for the amazing hunting experience we had with Raynardt and Will in helping us to secure our trophies,  give them a big shout they were great even keeping us busy when our animals were on the deck.
We couldn't have asked for a better experience and was great to do it as father and son!   Thanks again everyone and I will be back at some stage..
Alex , Rod Triffitt from Tasmania