In March 2022 Olly Garland joined our team as our new in-house taxidermist! Along with his taxidermy skills, his background in high-end tourism and his passion for hunting and the outdoors makes him a perfect fit for Glen Dene Hunting and Fishing!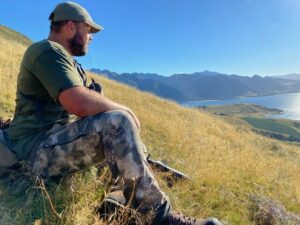 Actually, that's what drew Olly to Glen Dene Hunting and Fishing, and likewise, drew the Burdon family to him. Previously, Olly worked as part of a team that customized private diver trips on the Great Barrier reef. He enjoyed working to cater to individuals during this eight-year experience, and searched for a position where he could exercise those same skills and relationships while fulfilling his artistic side through taxidermy.
Olly seeks to customize his work to our clients' individual needs, and is always looking for opportunities where things can be improved, making the experience and memory even more special for you. An example of this is the unique plates he's added with name, date, and score for each of his mounts.
In years to come, the impressive red stag shoulder mount reigning in the room, greeting guests will raise questions and start conversations. Hopefully sharing the story of the hunt will enable you to relive it. For Olly, "the ability to create something that takes you back to the moment on the hill, stirring that memory forever," is what makes his taxidermy work so meaningful and rewarding.