Hunting's something you can do with no experience. Yes you heard that right.
People are always shocked to discover that they can participate in a guided hunt at Glen Dene Hunting and Fishing with no previous firearm or hunting experience. Our highly trained, certified hunting guides are both capable and eager to teach any interested client all aspects of hunting, from the rifle range to the meat chiller.
"We had heard about hunting," said first time hunter and client Kevin from Auckland, New Zealand, "but it always seemed like something very far away, another world."
Traveling to the Queenstown and Wanaka area to take part in the more mainstream tourist attractions and winter snow sports, Kevin and his partner Catherine were surprised to discover they could not only participate in a hunting experience as complete novices, but Glen Dene Hunting and Fishing would provide them with the equipment, a knowledgeable guide, and plentiful opportunities to help them gain confidence both hunting and in the outdoors in general.
Kevin said the main aspect that made the experience so enjoyable and encouraging was that it is very personalized. On any hunt, it's always only your party and the guide, allowing us to customize the experience to your needs and goals. Maybe you need more time at the range to achieve the sureness desired on the hunt, or maybe physical limitations warrant hunting only in certain terrain. This one-on-one style of guiding helps the guides ensure that the experience is safe and enjoyable.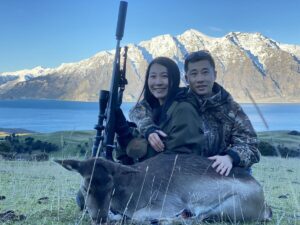 For first-time hunters, this customized setting is even more valuable. Kevin and Catherine's guide noticed Catherine's shoes were less than ideal for "on the hill," and, with the help of the owner, Sarah Burdon, a more appropriate pair that fit was provided. Speaking to them a couple months after their trip, this was still something that they recall adding a lot to their day. "Feeling equipped with the correct gear and feeling comfortable with the rifle at the range helped us feel much more confident about going out on the hunt."
From a guide's prospective, "This is our chance to develop a lifelong passion for hunting and the outdoors. Not only is keeping people safe and having a successful hunt important, but also ensuring clients are comfortable and having a good time. That's what will make their overall experience and hopefully encourage them to continue hunting. Hunting is a difficult activity to get into if you're not born into a culture where it's popular, so everything we can do on our hunts to help teach about the animals, the environment, and the firearms will help expand this activity we're so passionate about. It's kind of a niche recreation, and we're really lucky to be able to share it with others."
The personalized experience is of the upmost importance at the range, especially for first-time hunters because firearm safety and proper use is a top priority. Under the supervision of the licensed firearms holding, certified professional hunting guides, clients practice looking through the scope in common shooting positions, dry firing the rifles, and finally shooting at the range to ensure they are comfortable with the firearm before they're ever on the hill hunting.
We strive for this session to not only lead to a successful day hunting, but also to lay a solid foundation for firearm handling and use for clients that choose to continue hunting. Initial instruction teaching correct technique develops good habits for the future. All our guides at Glen Dene Hunting and Fishing, along with being licensed firearm holders, have taken long range shooting courses to ensure they are well schooled in disciplined shooting and have vast experience setting up shots. This knowledge is invaluable to beginners at the range and in the field.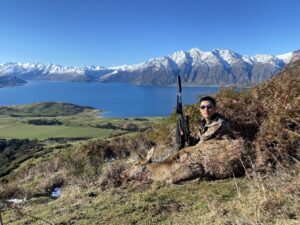 On Kevin and Catherine's hunt, their guide chose to hunt with a small caliber suppressed rifle to ensure that there was no kick from the firearm during the rifle range session that may result in creating bad habits like flinching when pulling the trigger. For other hunts, such as on trophy stags or tahr, the guide will select a larger caliber for these heavier animals.
When "on the hill" hunting at Glen Dene Hunting and Fishing, the guides continue educating with explanations of animal behavior, stalking techniques, and natural plant and bird life. This firsthand experience with an expert will undoubtedly help those looking to continue hunting to progress much faster. Sharing the information also helps to keep clients engaged and included in decisions about the hunt.
Guides teach about field dressing animals and provide the manpower to help carry the carcasses out. For those interested in learning about butchery, back at the homestead your guide can break down the animal into cuts or take meat to the butchery for processing.
Kevin and Catherine had an evening flight out of Queenstown the day of the hunt. With the help of another guide to make the time deadlines, both deer were flat-skinned for the beautiful hides to be tanned for rugs, and the entire animals were butchered, debone, and separated into cuts, weighed and packaged in Styrofoam chillers, and sealed to fly home with them!
"We would not have been able to do any of it without a guide," Kevin asserted. Having the assurance of someone who can instruct with the firearm, find and capitalize on animals, and is able to clean and deal to the animals after the hunt gives our first-time hunting clients the confidence they need to get out and try this new experience.
So maybe you're interested in providing a healthy and sustainable source of protein for your friends or family, or maybe you just want to learn more about the outdoors and have an incredible adventure? Glen Dene Hunting and Fishing will provide you with the essential tools to learn and succeed hunting.
Our crest motto "Nil desperandum auspice deo," "Do not despair, have faith in us," pilots us in our efforts to give you confidence on the hill. Whether you're in it for the experience or to learn about your new hobby, a first-time meat animal hunt at Glen Dene Hunting and Fishing is the opportunity for you!
Written by Bre Lewis