Top Spa and Relaxation Activities in Wanaka
We know it's not always about the hunt when our guests come hunting with us, especially for our non-hunting guests. When visiting Glen Dene Hunting & Fishing to hunt red stag, we know that most of our guests are here to explore our region and we host our clients during their stay.
Here's our top spa and relaxation escapes in Wanaka.
Blue Pools, Makarora
The Blue Pools at Makarora are just a short 45-minute drive up the West Coast road from Cross Hill Lodge & Domes – your premium accommodation for your Glen Dene Hunting or Fishing trip.
Nestled among mature beech and podocarp forest, these pools of deep, clear water flowing into the Makarora River offer a moment of tranquillity. This is one of our best short walks. An easy short walk-through mature beech and podocarp forest leads to these natural wonders of pure glacial water gathered from the mountains. Travel through open flats for spectacular mountain views and enjoy the coolness of the beech forest to a swing bridge over the Makarora River.
Tip: The pools can get busy in summer so arrive early and bring something comfy to sit on, the beach is rocky and not pleasant to sit on for longer periods.
Massage and Hot Tub at Cross Hill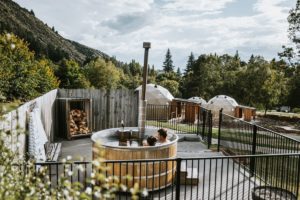 We recommend booking your hot tub and in-house massage as soon as you book your hunting trip. This guarantees you a space and is the perfect way to end a day hunting up the hill or for non-hunters, the perfect way to unwind after exploring our region. Located at Cross Hill Lodge, the wood fired outdoor hot tub overlooks the surrounding mountains and park-like grounds, while the massage room is located inside the Lodge. Couples massage available buy booking in advance.
Tip: Book as soon as you can to avoid disappointment.
Hot Tub and E-bikes at Landescape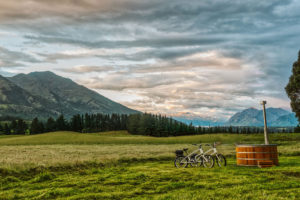 Our friends down the road at Landescape combine e-biking with a soak in a hot tub. We recommend getting our lodge team to have the bikes delivered to you at Cross Hill, so you can enjoy ebiking along the Gladstone Track and admiring the views of Lake Hawea, before biking the river track back to Landescape where you can enjoy a dib in their hot tubs. Give us a call when you're ready and we'll come and pick you up in time for dinner at The Lodge.
Tip: For avid bikers, hire the bikes for the whole day and explore more.
Oakridge Spa

Oakridge Resort is a resort-style hotel in Wanaka, just a 15-minute drive away from Cross Hill Lodge & Domes. The resort boasts a 25m (unheated) swimming pool and is the only Wanaka hotel with 9 outdoor heated pools; the pools are tastefully landscaped in rock and alpine tussock. Take your pick from one of the many different hidden spots throughout the pools.
The Sanctuary Day Spa is located at Oakridge and is perfect after a fun and active day up the hill hunting, pop in for a relaxing massage, facial, manicure, pedicure, or choose from one of their many other luxurious services.
Tip: Book ahead for spa treatments as they get very busy and often full weeks ahead of time.
Read: Here's another of our guides. Click here to read our Top 5 wineries in Wanaka.