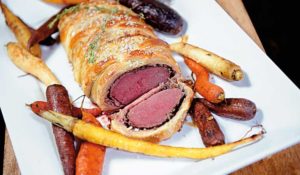 According to Petersen's Hunting, "an elk tenderloin, or any venison loin for that matter, still pink in the middle and presented in a golden, flaky crust is a bar above any prized turkey or cooked goose when unwrapped as the centerpiece of Christmas dinner". We agree and Christmas in the Burdon family often features venison, along with the traditional Kiwi Glazed Ham.
So whoever you're hosting this Christmas, why not wow them with this game version of Beef Wellington?
Serves: 4-6
Prep time: 30 minutes
Cook time: 30 minutes
Ingredients:
1 elk or venison tenderloin
Salt
Black pepper
Olive oil
6-8 slices prosciutto
¼ cup English mustard
Puff pastry
Egg yolk
1 tablespoon milk
Mushroom Duxelles:
3 tablespoons butter
2 shallots, finely chopped
½ pound mushrooms, finely chopped
1 teaspoon dried thyme
Splash of cream
Salt and pepper
Directions:
To make the duxelles, sauté shallots and mushrooms in butter until the moisture from the mushrooms has evaporated. Add a splash of cream, along with dried thyme, kosher salt and black pepper. Stir until duxelles forms a tight paste. Transfer to a plate and let cool while you prepare the venison.
Preheat oven to 400 degrees.
Season elk tenderloin with salt and pepper. Heat one tablespoon of olive oil in a heavy cast-iron pan and sear tenderloin quickly on all sides. Spread a thin layer of English mustard on the tenderloin and transfer to the refrigerator to cool.
Layer the prosciutto slices onto a large sheet of plastic wrap, then spread on the mushroom duxelles. Place the mustard-coated tenderloin in the center of the prosciutto-mushroom. Carefully lift one side of the plastic wrap, rolling the prosciutto over the tenderloin into a tight cylinder. Chill for 15-20 minutes.
Whisk together the egg yolk and milk to make an egg wash. Place one sheet of puff pastry onto a large sheet of plastic wrap. Unwrap the tenderloin from the plastic and place on the center of the puff pastry. Fold one half of the pastry over the tenderloin, then roll into a cylinder, sealing it with a broad brush of the egg wash.
Line a baking sheet with parchment paper and place the pastry-wrapped tenderloin in the center of the sheet, seam side down. Brush the remaining egg wash over the pastry and cut small slits into the top to allow steam to escape. Bake 25 minutes, then check the internal temperature of the meat with a digital thermometer. Bake another 5-10 minutes, or until the temperature reaches 125 degrees. Remove the Wellington from the oven and let rest 10 minutes before slicing.
Get the Recipe: Elk Venison Wellington Recipe