This recipe from the Wild Game Gourmet pairs gamey, rich venison with crunchy and tangy slaw. Original recipe can be found here.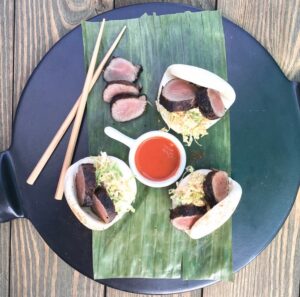 INGREDIENTS
FOR THE VENISON
2 cups – apple juice (real apple juice is best)

1/2 cup – light soy sauce

1/2 – red onion, sliced thin

4 – garlic cloves, chopped

1/4 cup – cilantro (coriander)

1 teaspoon -sesame oil

1 tablespoon – lemon grass, chopped (optional)

2 pounds – venison loin
FOR THE SLAW
2 cups – brussel sprouts, shredded

1/3 cup – sour cream

2 tablespoons – sriracha

3 tablespoons – mayonnaise

2 tablespoons – red wine vinegar

1/4 cup – scallions, sliced thin

1/4 cup – cilantro, chopped

4 slices – smoked bacon, cooked and chopped

salt and pepper to taste
DIRECTIONS
FOR THE VENISON
Add all of the ingredients except the venison to vessel that you are going to marinate the meat in (A glass pyrex dish or gallon freezer bag works well). Add the meat and marinate in your refrigerator for 12 to 24 hours.

Remove the meat from the marinade and dry thoroughly. Season with salt and pepper to your liking. Cook in a medium high heat pan or grill to no more than a medium internal temperature. Let the meat rest 15-30 minutes before slicing in to sliced between 1/4″ and 1/2″ thick.
FOR THE BRUSSEL SPROUT SLAW
Cook the slices of bacon and chop into small pieces.

In a small bowl add the all of the wet ingredients and mix. In a separate bowl add all of the dry ingredients, including the bacon. Now pour as much of the wet mixture into the slaw as you would like. Season with salt and pepper.
FOR THE STEAMED BUNS
Set up your steamer and bring the water up to a steam. Place the buns inside without overcrowding and steam according to the directions on your package. It should only take around 3 minutes.

To assemble the buns…. Lay one flat out on a plate, glaze the inside with a little hoisin sauce, add a little slaw and now the venison.