The Upper Clutha Ladies hunting group were unable to head away on their planned Hukarere hunting weekend, but they were able to organise an excellent day hunt after putting the idea to Richard Burdon at Glen Dene. Erica Phiskie writes about her experience.
Brenda and I paired up and James the cameraman tagged along with us on our mission.
We had a block on Glen Dene that Brenda had hunted on the HUNTS course, so she led the way.
It was a bit of a hike up the hill but a stunning day, lots of mini breaks to catch our breath. Feeling a bit unfit!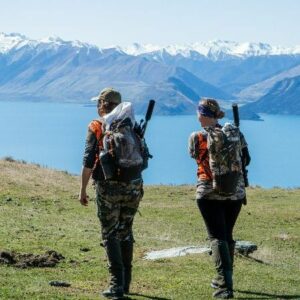 There were animals everywhere!
We spotted fallow deer trailing back up to a higher possie where the rest of mob were sunning themselves. We decided to set up on a bit of a ridge and again several animals were spotted in various directions. Brenda took a long shot at a fallow deer.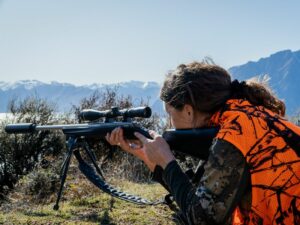 It was a miss, but the shot disturbed 2 reds that luckily spooked in her direction. When they were closer  she took another shot – and bowled over a nice red hind.
It rolled down the hill a bit and we quickly got over to it and proceeded to do a pretty good job of butchering the animal.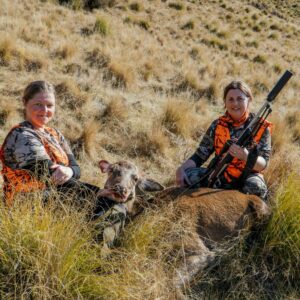 More animals were spotted on the way down the hill with the odd one popping out right in front of us.
We spotted plenty of pig sign – and goats as well.
It was lovely to get up onto Glen Dene with Brenda -although  our bodies certainly felt it the next day.
Neither of us had hunted together before, let alone having a camera man tagging along with us!
Many thanks,
Erica