Last hunting season we welcomed Raynardt van der Merwe, a full-time professional taxidermist from South Africa, to help us provide a more complete experience for our clients.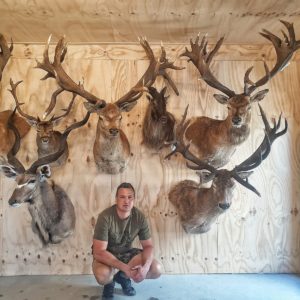 Some of you may have since met Raynardt and used his expertise to mount your animals and we'd love to see your photos of them installed back home.
Raynardt grew up in "the bush" in Limpopo province in South Africa. He began his guiding career at the age of 16 and became professionally licensed at 21.
As a qualified Big Five professional hunter, he opened his own successful outfitting business in 2005 and added taxidermy a year later.
At the hunting shows, Richard and Raynardt connected and saw the potential of merging taxidermy with guiding at Glen Dene Station in New Zealand. Now, Raynardt plays a key role at Glen Dene both as a taxidermist and hunting guide and moved to Lake Hawea with his family to bring this dream to life.
The addition of a taxidermist to Glen Dene allows for a much more efficient and streamlined process for receiving trophies straight to your doorstep.  While dealing with third parties for taxidermy work takes aspects of the trophy, such as quality of the mount and timeliness of completion, out of Glen Dene's hands, this in-house opportunity guarantees the standard and satisfaction inherit in the Glen Dene name.
Along with the quality work we strive for, taxidermy with Glen Dene holds many other benefits. Those familiar with the dreaded wait for trophies from most overloaded taxidermists in the US will be happy to know that Glen Dene taxidermy prioritizes Glen Dene clients.
Raynardt and his assistants work constantly throughout the year. They start the processing of your trophy as soon as it's brought back to the cooler, this way the entire taxidermy process can be completed as promptly as possible. Our aim is to deliver to your doorstep in less than a year from your hunt.
Yes, you read it right. Straight to your doorstep! By exporting the finished taxidermy product, rather than expedited trophies, you can have the mount shipped straight home rather than having to go through a licensed trophy importer and Fish and Wildlife inspections, saving time and money.
How does the cost of shipping differ for a mount? It doesn't! Believe it or not, the same size crate is required for shipping a shoulder mount or the expedited antlers and salted capes. We achieve this by using detachable antlers on our shoulder mounts.
Glen Dene is always striving to facilitate every aspect of this dream hunt for our clients. The taxidermy opportunity is just one way we hope to make your trip and perfect, creating lifelong memories. Guests can visit our taxidermy studio on our new Glen Dene Station Farm Tour. Click here to find our more about our Wanaka Farm Tour.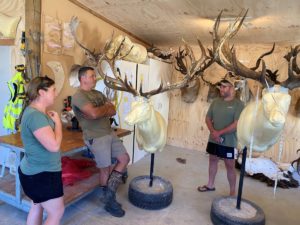 We'll spend more time with Raynardt soon and find out more about his hunting life, his favourite things about hunting, living in Lake Hawea and Glen Dene.